The city of Orlando is located in one of the world's most visited tourist regions, and draws tens of millions of visitors from across the globe every year. The big draw? Well, in addition to having year-round near-perfect weather (even the winters are mild), this bustling Florida city just so happens to boast some of the sunshine state's top tourist attractions: Walt Disney World Resort, SeaWorld Orlando, and Universal Resort.
The establishment of these mega-amusement parks has encouraged countless other investors involved in the travel and leisure sectors, and today there are limitless hotels, motels, and resorts in the Orlando and Kissimmee area to choose from. These, along with the many thousands of restaurants, dozens of golf courses, and numerous other attractions and things to do in Orlando, all add up to prove that Walt was right when he took a gamble on the city back in 1971.
While many people think of Orlando as only a family destination, dominated by activities targeted at children, adults will find plenty to keep them entertained as well. Attractions like the Harry P. Leu Gardens make for nice escapes, and the Kennedy Space Center on Cape Canaveral is within easy reach of the city.
Whatever you plan on doing while you're here, be sure to discover the best of this area with our list of the top attractions in Orlando, Florida.
1. Walt Disney World Parks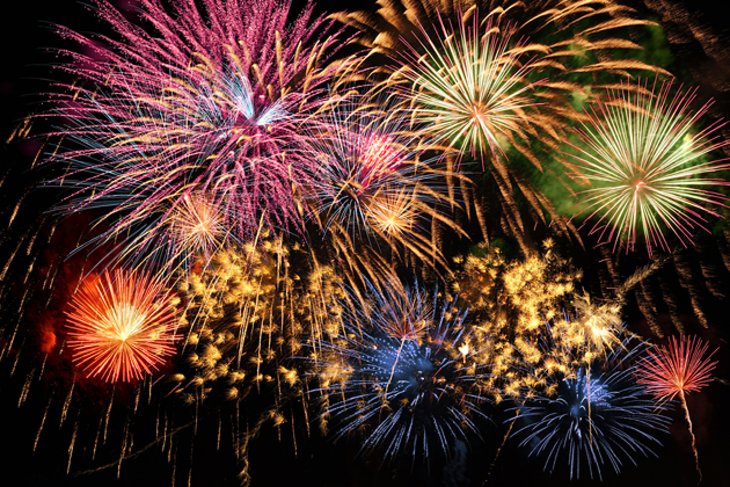 Walt Disney World Resort is Florida's most popular family attraction and has been ever since the Magic Kingdom opened its gates to the public back in 1971. Since then, the resort – usually referred to by guests simply as "Disney World" – has grown tremendously, now encompassing four theme parks, two water parks, a shopping and entertainment district, a sports complex, an extensive boardwalk, and no less than 28 Disney-owned accommodation options.
Of its four parks, Magic Kingdom is the most iconic, with Cinderella's Castle standing at the center of the park. Epcot's Spaceship Earth geosphere stands at the entrance of this exposition-style park, which includes Future World and the World Showcase, an around-the-world experience that gives visitors a chance to peek at different cultures. While traveling the world and visiting the 11 pavilions dedicated to each participating country, you can meet popular international Disney characters like Mulan, Belle, and Mary Poppins.
The Hollywood Studios park gives visitors the opportunity to see into the world of movie magic, with exciting stunt and special effect shows. It's here you can also enjoy thrilling new film-themed rides like the Star Wars-inspired Star Tours and Rise of the Resistance, and for younger audiences, the epic Toy Story Mania!
The Kilimanjaro safari experience at Animal Kingdom is an amazing way to see African animals run free in a natural habitat, and the massive Tree of Life makes the perfect backdrop for family photos. Also worth a ride (and line-ups), Expedition Everest is an exciting roller coaster ride that even ends with a Yeti encounter.
Fireworks and parades are nightly events throughout the parks, and there are special events held at each of the parks year-round. Although lines for the top attractions and rides can be notoriously long, there are options available that can help you get the most out of your visit.
If you are going to be visiting multiple parks, allow at least a minimum of one day for each, and be sure to use a park map to plan ahead. Multi-day, all-park passes can offer significant savings the longer you plan on staying.
Disney's many resort hotel complexes make the experience complete and offer a full range of themed destinations, from budget accommodations like Disney's Pop Century Resort to the Port Orleans Resort (Riverside or French Quarter), to the shopping, restaurant, theater, and music experiences awaiting you in Disney Springs .
Official site: disneyworld.disney.go.com
2. Universal Theme Parks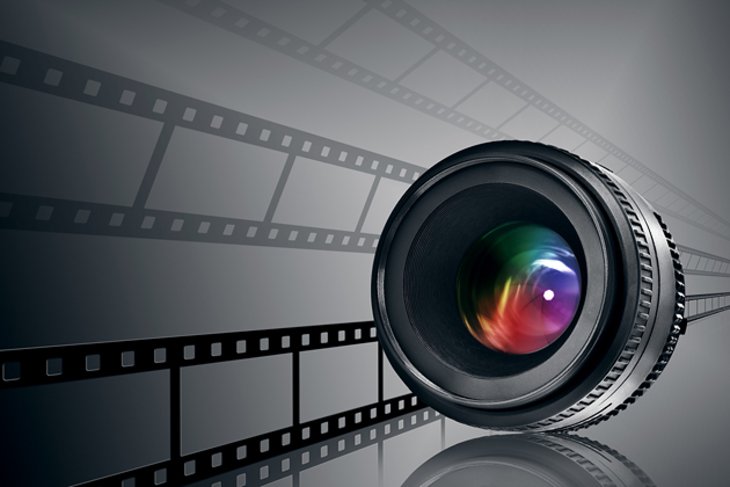 Consisting of three individual parks, Universal Orlando Resort has in recent years certainly upped its game as a challenger to Disney's theme park supremacy. The addition of new rides and attractions within each of the parks – Universal Studios Florida, Islands of Adventure, and Volcano Bay – has certainly helped, and these days you can easily spend as much time exploring Universal's rich world of characters as you can Disney's.
Universal Studios Florida is the original, and is a combination theme park and working studio that was designed in consultation with Steven Spielberg to give visitors an interactive experience with the filmmaking industry. While it's popular with all ages, it's numerous thrilling roller coasters and wet rides ensure its reputation as one of the best places to visit in Florida for those traveling with teenage kids.
Universal's Islands of Adventure has eight uniquely themed islands that are each dedicated to a film franchise. These include Seuss Island, The Lost Continent, Toon Lagoon, Jurassic Park, Skull Island: Reign of Kong, and Marvel Superhero Island.
The Wizarding World of Harry Potter is the park's newest addition. This wonderful area of the park remains true to the magical world created by J.K. Rowling, complete with Hogwarts Castle, the Hogwarts Express, and even Hogsmeade when you're thirsty. Diagon Alley extends into the Universal Studios park, where visitors can join Harry's escape from Gringotts bank.
If you're keen on taking as many rides as possible in the shortest time, consider investing in the Express Pass. This handy add-on allows you to zip to the front of the line once per attraction.
Universal Studios also has regular events and celebrations suitable for the whole family. City Walk, also part of Universal, is a huge entertainment complex featuring dining, shopping, movies, and other entertainment options throughout the day and night.
3. SeaWorld Orlando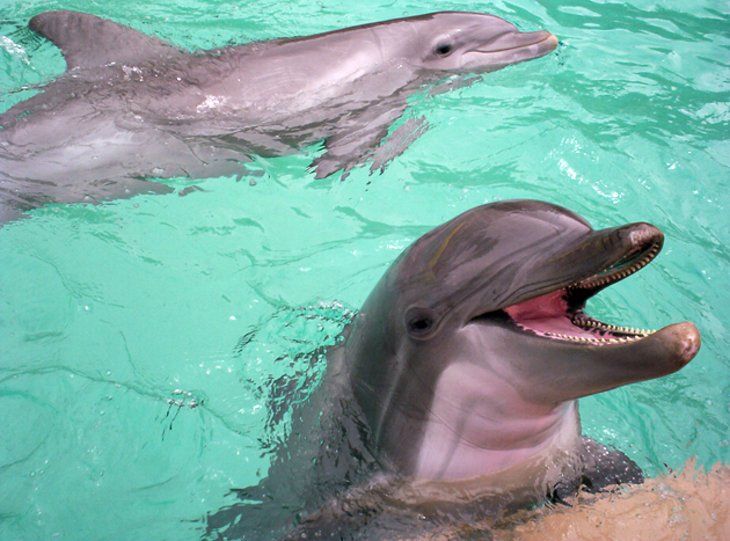 Orlando's SeaWorld is known for its massive aquariums, dolphin and whale shows, touch pools, and many exciting rides. Although guests may no longer feed the dolphins, you are still able to reach into the interactive dolphin pool and pet these beautiful, intelligent creatures.
Those who want to get even more hands-on can sign up for an up-close tour with the dolphins, killer whales, sea lions, penguins, or sharks. Other special tours include a behind-the-scenes look at SeaWorld operations and tours of the manatee rehabilitation center or the dolphin nursery, where the park's youngest dolphins are cared for.
In addition to the plethora of sea life, the park has many exciting rides for all ages, including several water rides that are refreshing on a hot Florida day. The park's most popular thrill rides are its roller coasters, including the Mako hyper coaster, the Manta Coaster, and the Kraken Virtual Reality Coaster.
If you find yourself in the park on a Friday or Saturday night you'll be treated to an impressive fireworks display.
4. Discovery Cove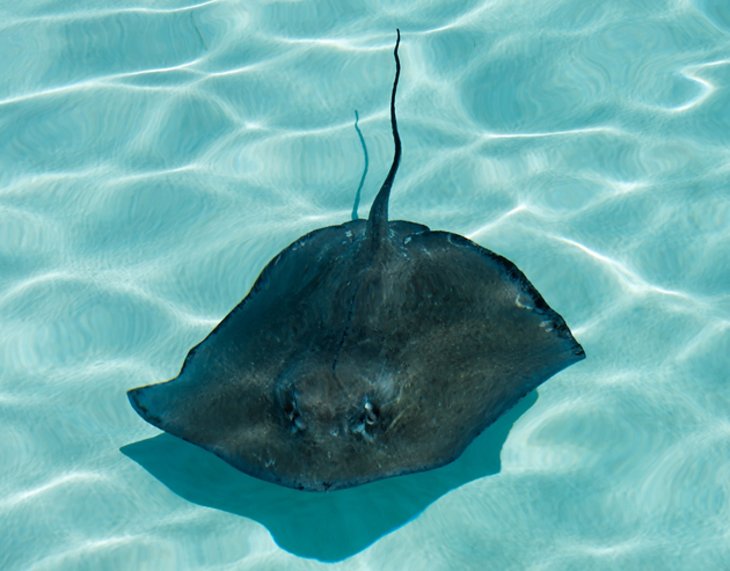 Located next to SeaWorld Orlando, Discovery Cove is one of the area's premier attractions. Visitors to the park can interact with ocean life in a more natural setting, including snorkeling along a coral reef, exploring underwater with a full dive helmet, wading among stingrays, and swimming with the dolphins.
There's also a large aviary on-site where you can interact with exotic birds, and a relaxing river that you can explore and snorkel in. There's also a tropical swim area where you can splash in the pools or relax in a lounge chair on the sandy beach.
Available to purchase are all-inclusive or one-day passes. Due to the extreme popularity of Discovery Cove, it's best to book a reservation well in advance during peak season.
5. Disney's Typhoon Lagoon & Blizzard Beach Water Parks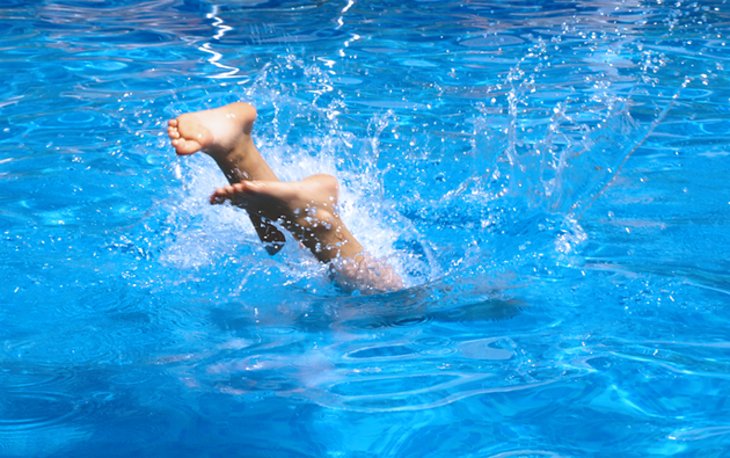 Typhoon Lagoon is Disney's biggest and most popular water park. Inside, you'll find a wide variety of attractions for all ages, including kiddie rides and swimming and splash areas, like Ketchakiddee Creek, a play area designed for young children.
Surfers will love the huge wave pool, and those who want to give it a shot can sign up for surfing lessons. Other attractions include a peaceful ride along the lazy river, whitewater adventures on Miss Adventure Falls, and thrill rides like Humunga Kowabunga.
In addition, multiple waterslides are located throughout the park for various age levels. There's even a sandy beach where kids can play while parents relax.
An alternative water park is Disney's Blizzard Beach. This ski-resort-themed attraction features a long, winding river that circles that park, as well as a variety of water rides for the whole family.
6. Universal's Volcano Bay
Opened with great fanfare in 2017, Volcano Bay is Universal's newest water theme park and replaced the original Wet 'n Wild. Like the other area theme parks, there are play-and-stay options available for those who want to truly immerse themselves in the experience.
Krakatau sits at the center of the park and houses the popular Aqua Coaster thrill ride. Waturi Beach faces the volcano, where guests can relax on a sandy beach and swim in the large wave pool. Here, guests can use one of the provided lounge chairs, upgrade to padded loungers, or even rent a cabana.
Exciting park attractions include huge waterslides, tubing, and thrill rides. There are also plenty of areas dedicated to younger guests, including a zero-entry wading area.
As an added convenience, the park has introduced the TapuTapu, a waterproof wearable device that allows guests to electronically get "in line" for one ride at a time, and then spend their wait time relaxing instead of standing in the hot sun in a line. The device is free and given to each guest upon arrival.
If you download the app prior to your visit and enter your credit card information, you can also charge food and beverage purchases with just a tap of your TapuTapu.
7. Day Trip to Kennedy Space Center Visitor Complex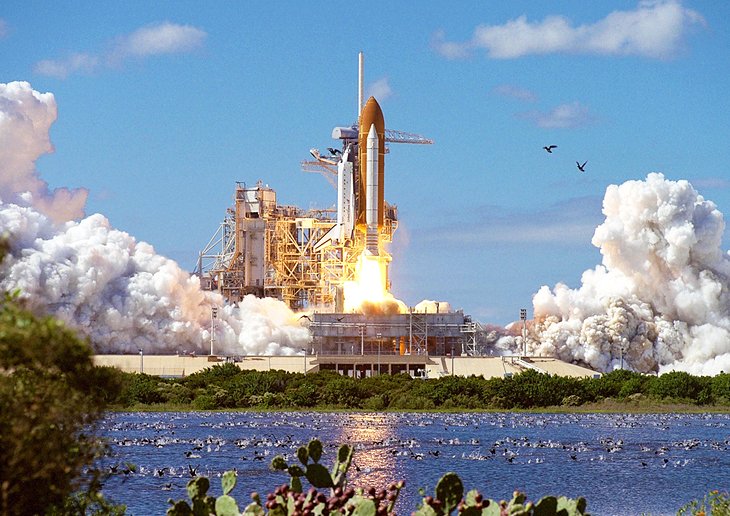 About an hour's drive away, the Kennedy Space Center Visitor Complex is one of the most popular day trips from Orlando. A visit here allows you the unique opportunity to see one of NASA's best-known operations centers.
Be sure to visit the Heroes and Legends exhibits, which introduce guests to the lives and careers of those who made the space program possible, from engineers to early space explorers. This also includes the U.S. Astronaut Hall of Fame, as well as the Rocket Garden, where you can see the rockets from some of NASA's most famous flights, including the Apollo and Gemini programs.
One of the major highlights is the exhibit showcasing the original Space Shuttle Atlantis. Standing mere feet away from this iconic machine and seeing the scars of flight and reentry is spellbinding. Over 60 exhibits provide information about the space shuttle and the program overall.
Other exhibits include lunar exploration, mock astronaut training, the shuttle launch experience, and an IMAX theater. If you time your visit right, you can even watch launches from the Cape Canaveral Air Force Station.
8. Gatorland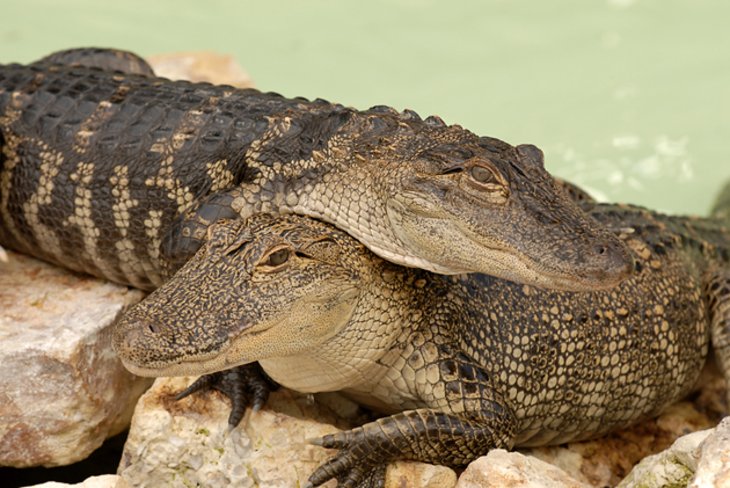 Since it opened in 1949, Gatorland has welcomed millions of guests through its famous gates to see the thousands of alligators, crocodiles, and other reptiles on display, some of which perform in daily shows and demonstrations. The "Alligator Jumparoo" show and "Gator Wrestlin'" are two examples. The facility is also home to rare white leucistic alligators.
A small train follows a set route around the grounds, and an observation tower provides views of the breeding marsh and surrounding region. One of the more recent additions to Gatorland are two ziplines: the Screamin' Gator and the Gator Gauntlet. The courses run above the alligator and crocodile pens.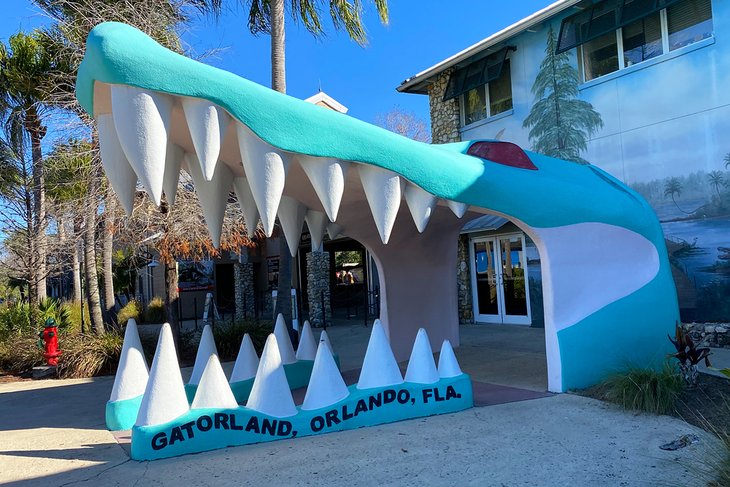 For the less adventurous there is still the self-guided swamp walk, and on hot days, kids will enjoy the Gator Gully Splash Park. And before you leave, be sure to grab a selfie posing in the jaws of the park's original giant alligator at the attraction's entrance.
9. Disney Springs
While paying a visit to Disney Springs (formerly Downtown Disney before a major rebrand and facelift) is undoubtedly one of the top free things to do in Orlando, it can easily turn out to be an expensive diversion from the theme parks. Why? Well, while this exquisitely designed entertainment, dining, and shopping district is free to wander, the temptations to dive into the purse or reach for the wallet are plentiful.
For shoppers, the urge to splurge will strike in the Town Center area. Looking like it could be located on the Mediterranean, this tree-lined area of Disney Springs is home to numerous chic fashion stores from leading brands such as Anthropologie, Coach, and Johnson & Murphy. All told, there are more than 103 places to shop (and spend) here.
Traveling with kids? Then you'll no doubt take them shopping in the iconic World of Disney store, just one of numerous Disney-specific shopping destinations here. Add to this a huge LEGO store; Build-a-Dino; and the ultimate little princess outlet, the Bibbidi Bobbidi Boutique, and leaving Disney Springs empty handed is all but impossible.
Then there's the dining and entertainment. Disney Springs boasts 64 dining options (there's everything from fast food to fine dining) and 25 unique attractions (the incredible Vintage Amphicars are a must, as is Cirque du Soleil). So sure, you can visit for free (including the parking), but will you want to?
10. Lake Eola Park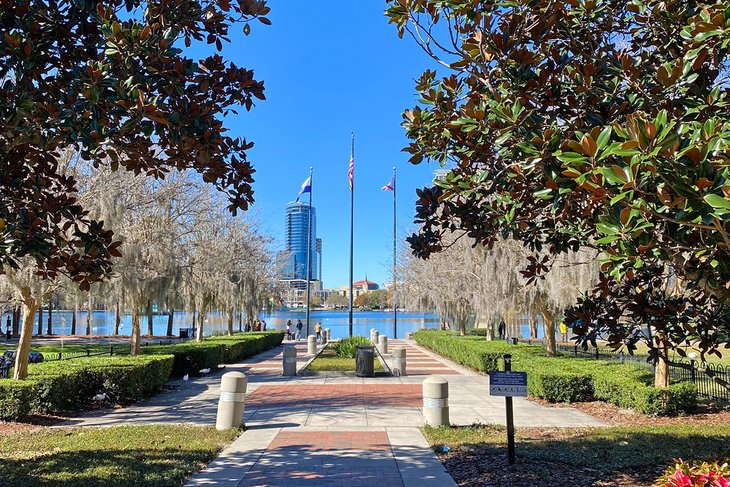 Situated in the heart of downtown Orlando, Lake Eola Park is a must-do for those wanting to experience just a little of what this dynamic city has to offer outside of the theme parks. Originating as a sinkhole before being landscaped and turned into a public park in 1888, it's a surprisingly large green space, with plenty of fun things to do.
A highlight of a visit is strolling along the nearly mile-long paved pathway that circles the lake. Along the way, you'll pass families enjoying rides in swan-shaped paddleboats, as well as the real swans who live here, and the Walt Disney Amphitheater, with its regular roster of live music performances. Bring a picnic, or grab a take-out from one of the restaurants and enjoy a great lunch al fresco.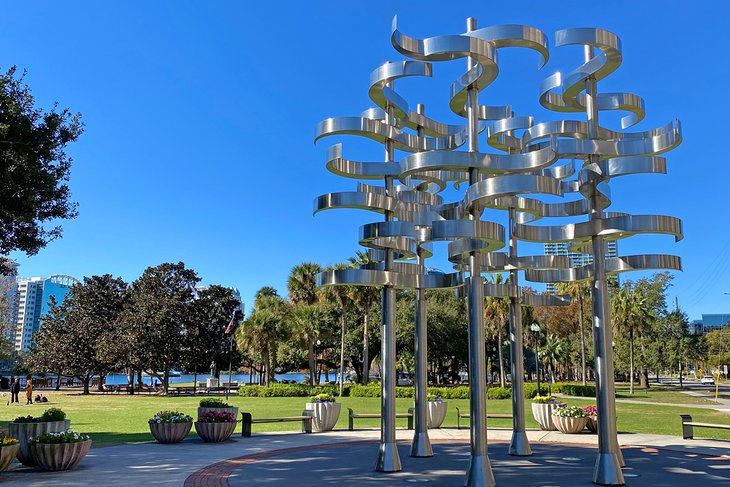 A word of warning: Getting to Eola Park requires traveling along the often congested Interstate 4. It's the only direct route for the theme parks in the south of Orlando, and travels right through the city center. If you've got time-sensitive events to attend at places like the Amway Center, or a dinner in Winter Park – or even the excellent Orlando Farmer's Market, held each Sunday from 10am to 3pm – plan accordingly and allow plenty of additional time, just in case!
Address: 512 East Washington Street, Orlando, Florida
11. Orlando Science Center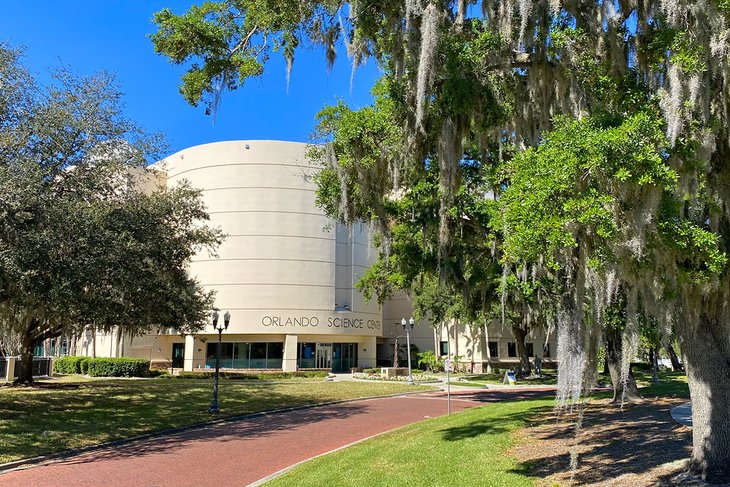 The Orlando Science Center showcases several branches of science, from mechanics to biology and applied technology. Among a variety of themed exhibits, the top favorite is often "Kids Town." Kids Town is available to children under 48 inches tall and is full of interesting and stimulating interactive exhibits.
Also worth experiencing are the laser shows and large format films at the Dr. Phillips CineDome. In addition to the exhibit galleries the Science Center presents touring exhibits from across the country.
It's worth noting that this world-class attraction is located in Orlando's superb Loch Haven Park, a lovely green space that's a delight to explore on foot. Established as a cultural hub for the city, it features numerous walking trails that connect other major attractions, including Orlando Museum of Art, Orlando Repertory Theater, Orlando Fire Museum, and the Mennello Museum of American Art and Sculpture Garden.
12. Harry P. Leu Gardens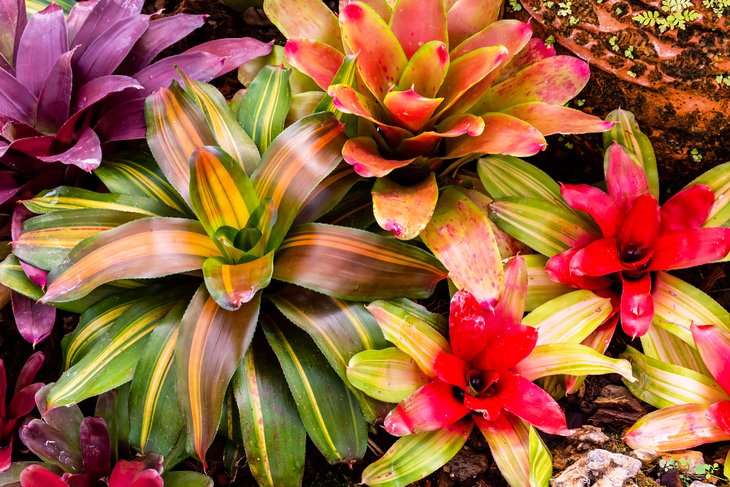 If you are feeling a bit overstimulated with all the noise, crowds, and action at the theme parks and need a dose of nature, head a short distance from downtown Orlando to the beautiful Harry P. Leu Gardens.
Spread out over 50 acres are ponds, fountains, and gardens, with walking trails winding their way through the various areas.
Highlights of your visit should include a stroll under moss-draped camphor and elm trees and a visit to the extensive rose gardens. Also, don't miss the large collection of palms and bromeliads.
13. ICON Park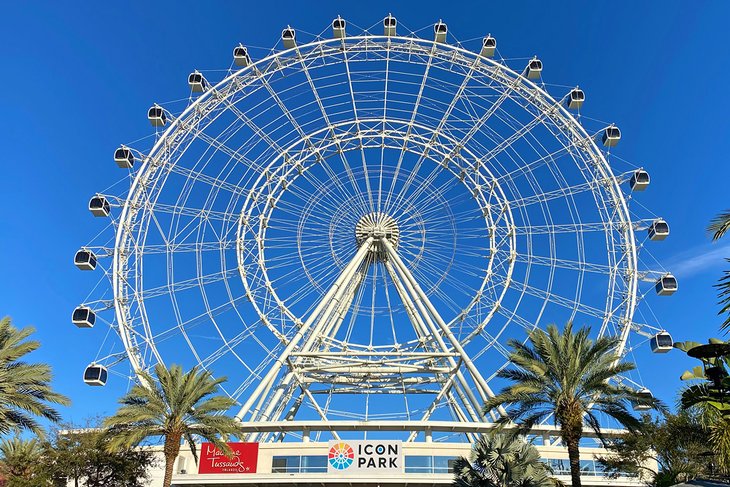 Spread across 20 acres on International Drive, ICON Park is an interesting mix of open-air shopping, dining, and entertainment, and includes a number of great attractions suitable for all ages. Anchoring the site is the huge Wheel at ICON Park, a 400-foot-tall Ferris wheel that offers incredible views over the area. It's especially impressive at night, when the wheel is illuminated by 64,000 lights that regularly change color.
Other fun things to do here include visiting the SEA LIFE Orlando Aquarium and Madame Tussauds Orlando waxworks, as well as riding the Orlando StarFlyer, billed as the tallest swing ride in the world. For toddlers, a ride around the park on the Pearl Express is a must, while teens will love the on-site arcade.
14. Winter Park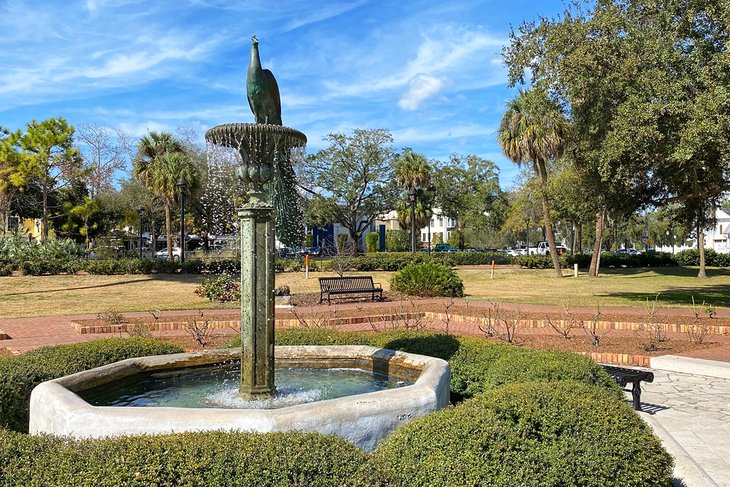 A visit to the city of Winter Park, an easy 15-minute drive from downtown Orlando, is definitely worthwhile. Not only is this leafy district home to some of the best luxury shopping along ritzy Park Avenue and in Winter Park Village, it's also home to a number of first-rate dining opportunities (Boca Winter Park is a must for fine dining).
For culture vultures, you're spoiled for choice. Winter Park is home to a number of world-class art galleries, most notably the Charles Hosmer Morse Museum of American Art, which focuses on the unique glass art of Louis Comfort Tiffany; the Cornell Fine Arts Museum, which features both contemporary and antique artworks; and the delightful Albin Polasek Museum & Sculpture Gardens.
The city also added a state-of-the-art events center in 2021, a stunningly designed structure that also houses the city library. Add to this a number of excellent museums such as the Casa Feliz Historic Home, along with beautiful parks and gardens (Mead Botanical Garden is a must-visit), and you can easily spend the best part of a day exploring Winter Park.
15. Celebration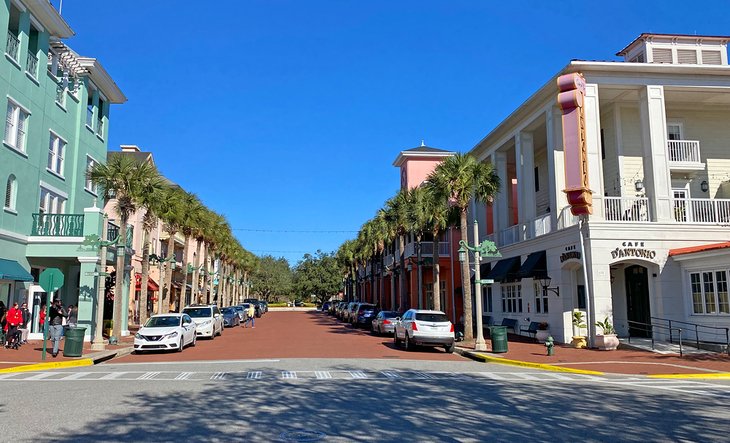 Although master-planned by Disney (and located just a short distance from Walt Disney World), the community of Celebration has a very distinct character. Now completely independent of the company that started it all in 1996, Celebration makes for a fun diversion from the surrounding theme parks and hustle bustle.
Start your journey by parking as close as you can get to the Town Center district (there's plenty of street parking in and around this commercial hub). Explore the stores here, then grab a tasty treat from Fortuna Bakery & Café or Le Macaron, then score a lakeside seat, kick back, and relax. It's a great place to get in some people watching, too, as well as spotting the occasional (small!) alligator.
Refreshed, head for the pathways that circle and connect the various neighborhoods in Celebration. There are even a number of interesting boardwalk sections through marshland. And don' be shy to follow any of the offshoots leading to the luxurious homes that line the lake, too. Definitely time well-spent.
16. Exotic Animal Experience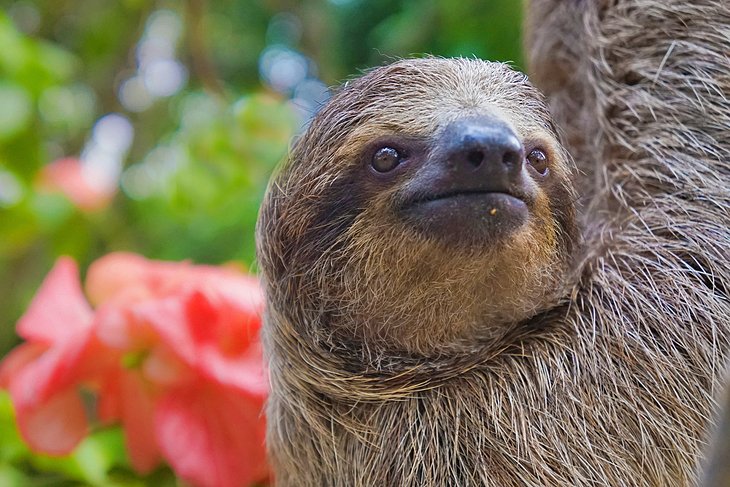 Orlando's Exotic Animal Experience offers visitors the chance to have personal encounters with some of the world's most interesting animals. Residents at the park include several species of kangaroos and lemurs, owl monkeys, kinkajou, deer, and two-toed sloths.
All visits are by reservation only, and guests have the choice of a group experience, private visit, and special packages that allow you to spend extra time with the animals. There is also a "Simply Sloths" option for those who want to spend all their time hanging out with the world's most adorable critters.
Where to Stay in Orlando for Sightseeing
Most first-time visitors to Orlando come to visit the famous theme parks: SeaWorld, Walt Disney World, and Universal Studios, about 10 to 20 miles from the downtown area. A short drive from the theme parks, the popular tourist area around International Drive is home to large outlet malls, water parks such as Wet 'n' Wild, and other tourist attractions. Below are some highly-rated hotels, with swimming pools, in convenient locations for visiting Orlando's top tourist sites and outlet shopping malls:
Luxury Hotels:
Mid-Range Hotels:
Budget Hotels: