What is it about a waterfall that is so mesmerizing? There's something transfixing about watching water flow endlessly over rock. If you're the kind of person that could happily stare at free-falling water for hours on end, then you'll definitely want to explore these best waterfalls in Canada.
Fun fact: there are over 1,700 named waterfalls in Canada – and probably many more that have not been officially charted. In a country rich with waterfalls, it wasn't easy to pick the best of the best, but we think you'll agree that those that made this list are pretty special.
Some are insanely high; others spill an unimaginable volume of water. Others still are surrounded by pristine wilderness, setting a backdrop so magical that you might feel the need to pinch yourself. No, this isn't a dream – it's real Canadian life.
While some of the waterfalls on this list can be seen from the window of a car, others will require you to hike – sometimes for several days. Some take you to the base of the waterfalls; other times, you'll get to see the view from the crest. One legendary waterfall has an access point behind the falls; another allows you to cross over it on a suspension bridge.
Without further ado, check out our list of the best waterfalls in Canada.
1. Niagara Falls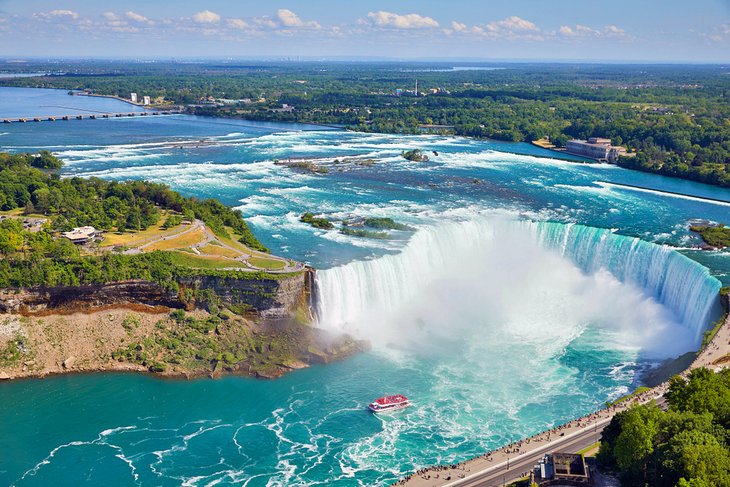 You didn't think we'd make a list of Canada's best waterfalls without paying homage to Niagara Falls, did you?
Niagara Falls is an international tourism destination – and there's a good reason it draws crowds. No matter how many times you've seen it in a picture or on video, it's impossible to capture the sheer volume of water without seeing it in person.
Niagara Falls isn't the longest waterfall in Canada – at just over 50 meters high, it's not even close – but it is unbelievably wide. What is commonly called Niagara Falls actually comprises three different waterfalls: the one that you see from the Canadian side is called Horseshoe Falls, which is 790 meters wide with an average annual flow rate of 2,400 cubic meters per second.
Niagara Falls is one heck of an experience. The town surrounding it is full of hotels, restaurants, touristy shops, and cheesy attractions, but there are also some pretty cool ways of interacting with the falls. You can head down an elevator and through a tunnel to experience the falls from behind, you can catch some panoramic views of the falls via zipline, or you can catch a cruise tour to experience Niagara Falls from below.
While none of these activities are free – and you're likely to drop a pretty penny on all the tourist attractions and experiences in the area – it doesn't cost anything to sit back and enjoy the falls from above.
2. Virginia Falls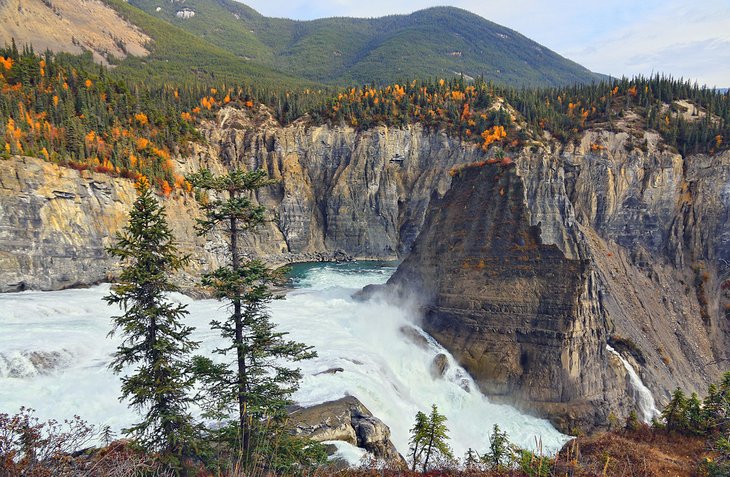 When it comes to epic Canadian waterfalls, Niagara Falls gets a lot of the fame and glory – but Virginia Falls is actually twice as tall. It also features the same impressive single drop style of waterfall – it doesn't jump around or change direction; it's simply an impressive mass of water flowing straight over the edge.
However, access to these falls is a little trickier. To get to Virginia Falls, you're going to have to head north – way North – to Nahanni National Park Reserve in the Northwest Territories.
The best view of Virginia Falls is reserved for brave adventurers willing to paddle or raft the Nahanni River. That's the only way to get to the base of the falls, where you can truly appreciate its height. Not sure you're ready to commit to such an extreme adventure? You can also book a float plane tour to see the falls from the sky for an equally memorable journey.
3. Pissing Mare Falls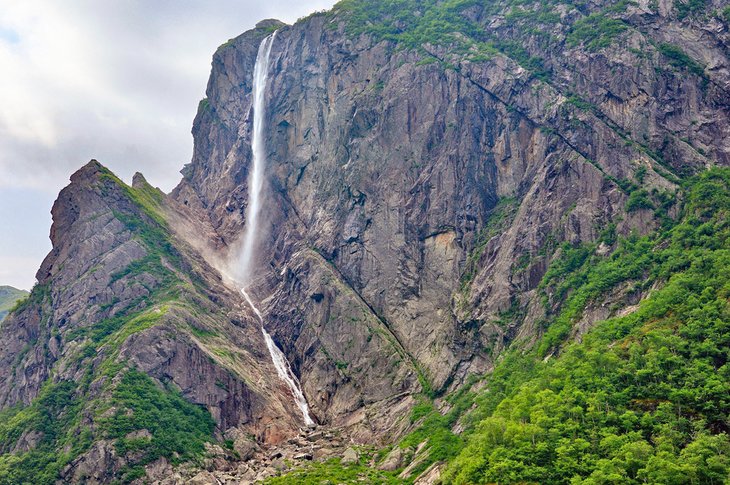 True, the name might not paint the loveliest picture – but Pissing Mare Falls (also called Cascade Pissing Mare) is arguably one of the most picturesque waterfalls in the country.
Even if the name doesn't ring a bell, you've probably seen these falls before in a photo of the iconic fjord at Western Brook Pond in Newfoundland's Gros Morne National Park.
Part of what makes Pissing Mare Falls so spectacular is its lush, rugged natural surroundings. Incidentally, those same features make it rather tricky to access. The easiest way to see them in the flesh is to book a boat ride through the fjord, though be mindful that boat tours are seasonal and subject to the weather cooperating. It's also worth noting that to get to the boat, you'll have to walk a good half hour along a well-maintained trail.
Since Pissing Mare is glacier-fed, it is best viewed in the spring. In the touristy summer season, the volume of water is not quite as impressive.
4. Takakkaw Falls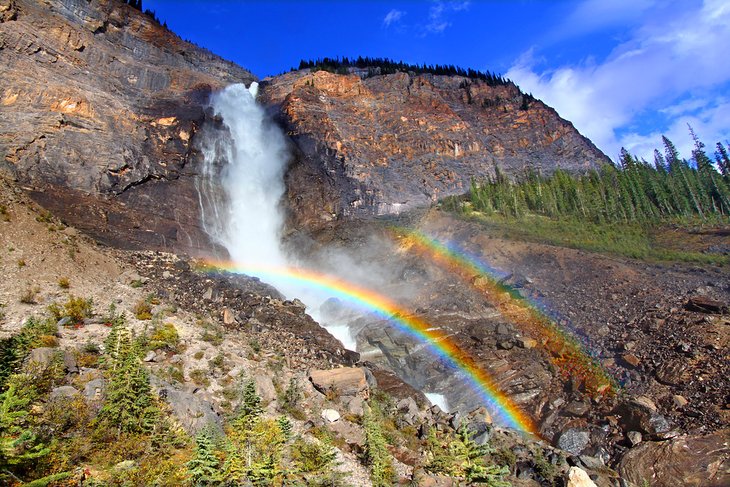 The tall, narrow Takakkaw Falls is a sight to behold: at over 300 meters high, this is the second tallest waterfall in all of Canada. This glacier-fed waterfall is one of the highlights in British Columbia's beautiful Yoho National Park.
You can catch a glimpse Takakkaw Falls from the winding road, but to truly experience them, you'll need to hop out of your car and follow a short, paved trail. Follow your ears: the sound of the falls is impossible to miss. Before you know it, you'll be standing in the mist – likely with your mouth agape at the sight before you.
Takakkaw Falls is best viewed in late spring, when the snow and glacier melts, pumping plenty of water down the falls.
5. Helmcken Falls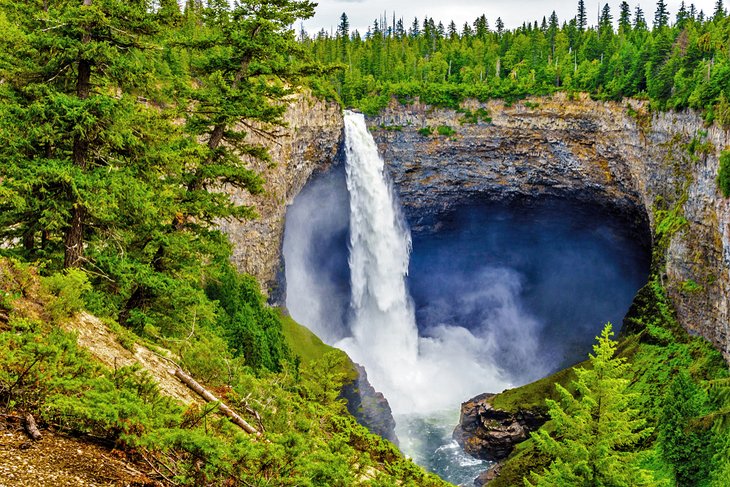 Tucked away in British Columbia's Cariboo Mountains is one of the nation's most impressive waterfalls, Helmcken Falls. The water here spills over a hollowed-out cliff. Though the falls look great in pictures, it's virtually impossible to capture the drama of the falls in 2D.
It couldn't be easier to get to the falls from the main road and there is a great viewing platform offering the perfect vantage point. You could also continue on to the eight-kilometer (return) Rim Trail to get another perspective of the falls.
You can thank Arthur Wellesley Gray for giving you access to Helmcken Falls: it's largely thanks to him that Wells Gray Provincial Park was created, primarily with the aim of protecting Helmcken Falls. Today, the falls – which are Canada's fourth highest – continue to be the most popular feature in the park.
While spring is often the best season for waterfall-viewing, winter is not a bad time to view Helmcken Falls: phenomenal ice formations develop around the waterfall, creating an incredibly cool (pun intended) effect. It is quite something to see the water of the falls moving crazy-fast, juxtaposed with the frozen ice cone surrounding it.
6. Montmorency Falls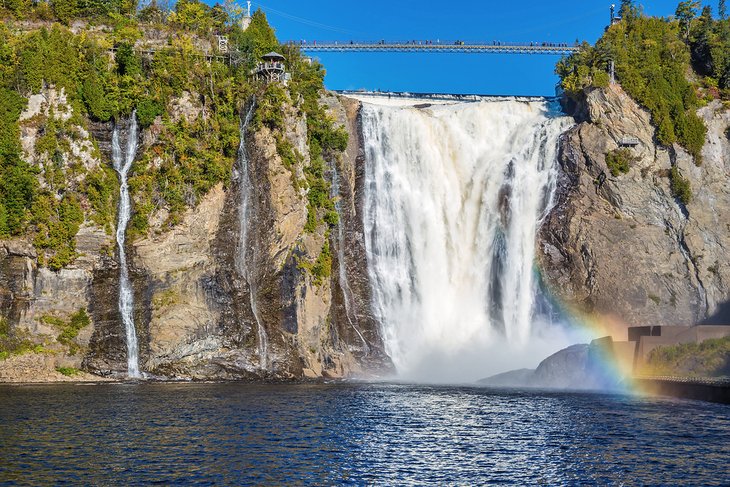 Better known as the Chute-Montmorency, Quebec's Montmorency Falls is so majestic that it has its own park, the Montmorency Falls Park. This 83-meter waterfall is fed by the Montmorency River, which drops off into the Saint Lawrence River below.
You couldn't ask for better access to these waterfalls. The park has developed awesome features to capture views from all angles. A wooden staircase follows the falls with several viewpoints along the way, while a suspension bridge spans the top of the waterfalls. You can also catch a cable car from the bottom of the waterfall all the way up to its crest.
And how's this for cool: a Via Ferreta right by the falls allows you to get right up close and personal, as does a zipline that whizzes close enough to the water to feel the mist on your face. If you've ever wanted to interact with a waterfall, Montmorency Falls offers some seriously fun ways to do it.
7. Shannon Falls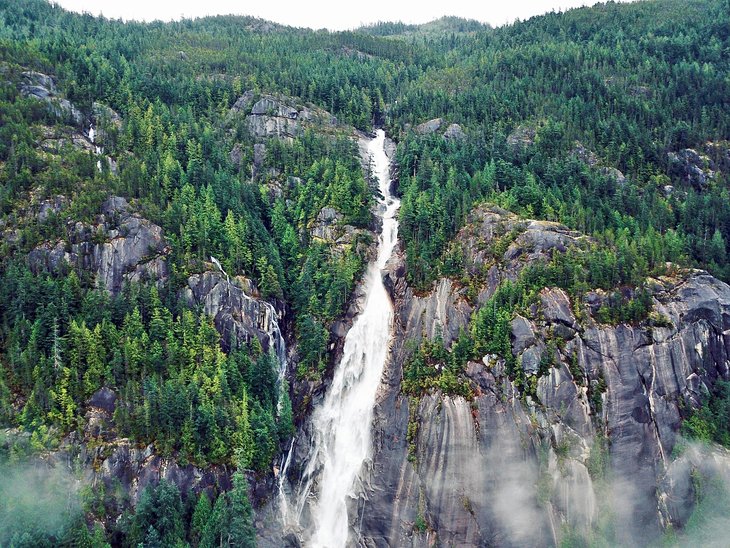 Shannon Falls is just a short day trip from Vancouver and makes a nice stop if you are on your way to do some sightseeing in Whistler.
There are three different ways to experience British Columbia's Shannon Falls – three levels, if you will.
Level one involves marveling at the 335-meter-high waterfall from the Sea to Sky Highway. If you're heading north from Vancouver to Whistler (or beyond), keep your eyes on the right-hand side of the road to see Shannon Falls, just as you're getting close to Squamish.
The second level requires you to pull over at Shannon Falls Provincial Park, which is literally right off the highway. Follow the boardwalk to view the falls from a little closer. There are some trails to wander and picnic tables by the falls. You simply cannot get views like this at any restaurant!
For those who want to get an even better feel for the falls, try level three: the hike to Upper Shannon Falls. It's a heart-thumping climb, but you'll get to experience sections of the falls that are impossible to see from down below. Though the pools of water you'll encounter will look enticing – particularly if you've worked up a sweat – don't even think about going for a dip. It is extremely dangerous to get in, and sadly, fatalities have occurred in the past.
Note: The Upper Shannon Falls trail is closed as of late summer 2019, anticipated to re-open in Spring 2020.
8. Athabasca Falls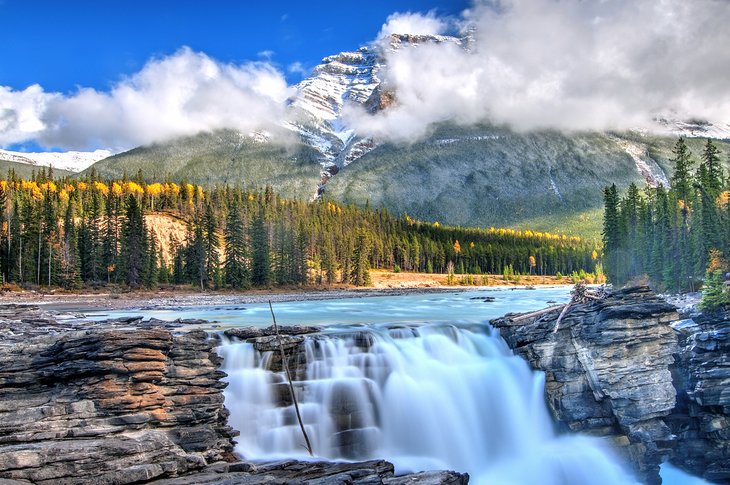 As you stand before Athabasca Falls in Jasper National Park, one thought is likely to come to mind: "Where on earth does all that water come from?"
The volume of water spilling out of Athabasca Falls is mind-boggling and is largely what sets it apart from the other epic waterfalls on this list. At just 23 meters high, Athabasca Falls isn't the tallest waterfall by any stretch of the imagination, but the copious amount of water that continuously tumbles from the waterfall is unreal.
While many other waterfalls slow to a trickle outside of spring, that's certainly not the case here. Thanks to the large Athabasca River, Athabasca Falls keeps flowing year-round.
The falls can be accessed by way of a short trail that's just under one kilometer in length. The path is straightforward – it's paved and generally quite well-maintained. The downside of Athabasca Falls' easy accessibility is that it tends to gather crowds in the summer months, when tourist traffic is at a high. Come early, or come in the off-season.
9. Della Falls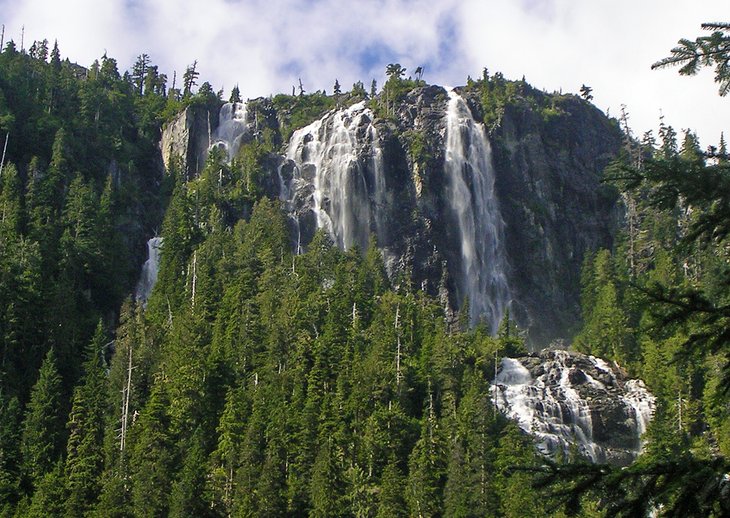 Brace yourself: British Columbia's Della Falls is the highest waterfall in Canada, with an astonishing 440-meter (that's 1,440 feet) drop. Located on Vancouver Island, Della Falls is undoubtedly spectacular – but it's also tricky to get to.
First thing's first: head to Strathcona Provincial Park and make your way to Great Central Lake. Next, you'll have to cross the lake – it's about 33 kilometers to the trailhead. You can either book a trip on a water taxi or propel yourself across by canoe or kayak. The former is easier, but the latter is cheaper – and there is a rack for storing canoes and kayaks by the trailhead.
Ready to hike? Good! At 29 kilometers in length return (or more, if you take a few side trips to enjoy the other attractions along the way), this is a trail geared towards experienced and adventurous hikers. It takes most people three days to complete the hike, so you'll need to plan ahead in terms of gear.
Other than booking and paying for the water taxi, there are no reservations or permits needed to take this trip. Having said that, the prime time to visit the falls in in July: in mid-summer, the glacial runoff is at an all-time high, and the falls look their best.
10. Kakabeka Falls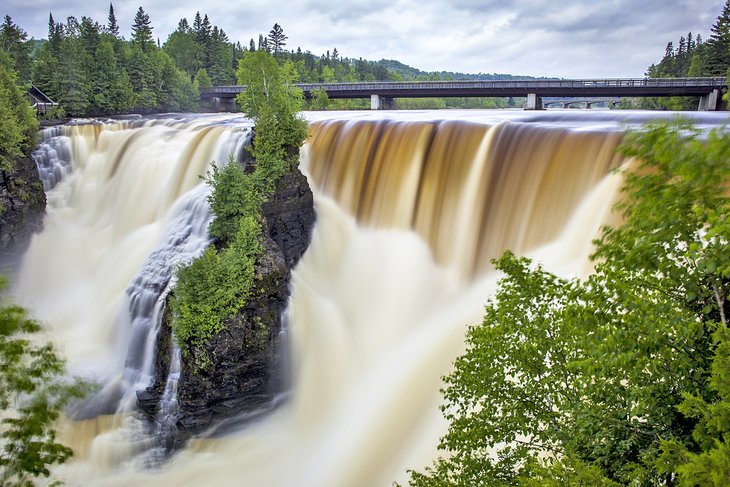 Just west of Thunder Bay, Ontario is the stunning Kakabeka Falls, tumbling 40 meters into a gorge in Kakabeka Falls Provincial Park. Dubbed "Niagara of the North," Kakabeka Falls is the second highest waterfall in the province. Unlike Niagara Falls, however, these waterfalls feel much more natural and less touristy.
With water cascading down and bouncing every which way, witnessing Kakabeka Falls in person is absolutely astounding. It's easy to access from the highway, so you can make a quick stop of it – but we recommend spending a couple of hours to really take it all in.
For the best view of the falls, follow the boardwalk trail that winds around the upper part of the waterfall. The gorge below is an ecologically sensitive area that is constantly eroding, so avoid the temptation to wander to the bottom of the falls – it is expressly prohibited.